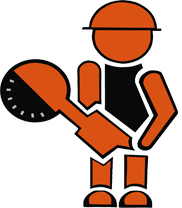 Out-of-the-box Concrete and Demolition Services Are Our Specialty
Our highly trained concrete and demolition specialists can help you with all aspects of demolition and renovation projects, from concrete cutting and coring to hazardous waste disposal.
We pride ourselves on exceeding the expectations of our customers by offering a personalised service.
Concrete Scanning
Cutloose Demolition has the latest technology in concrete scanning with the Conquest 100 Ground penetrating Radara (GPR) machine. Read More
Concrete Diamond Floor Grinding
We use the latest diamond sawing equipment to cut through all sizes and thicknesses of concrete, specialising in irregular structures and confined spaces. Our skilled operators also offer concrete floor grinding to restore level surfaces and concrete bursting, splitting and crushing for house and commercial demolition.
Core Drilling
Employing state-of-the-art hydraulic, electric and petrol powered coring equipment, our specialists can drill through hard surfaces like concrete, masonry and natural stone with ease to any depth and diameter required.
Truck Hire
For those DIY-ers who want the freedom to remove renovation rubbish and materials themselves, Cutloose Demolition has a range of truck, excavator and bobcat hires available.
Residential and Commercial Demolition
Whether you need a full building demolition, partial demolition or office strip-out, Cutloose Demolition is a licensed building and demolition company in South Australia covered by multiple insurances. We have a strong focus on the environment and practise environmentally friendly waste disposal and salvage.
For specialised demolition and renovation services in Adelaide, contact Cutloose Demolition for free, no obligation advice and quotes.