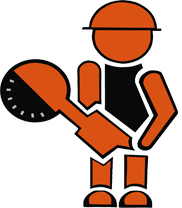 Concrete Scanning
Cutloose Demolition has the latest technology in concrete scanning with the Conquest 100 Ground penetrating Radar (GPR) machine.
It is designed to perform safe, non-destructive evalaution of concrete structures and provides rapid on-site imaging for cutting, coring drilling, or the characterization of concrete slabs with limited or missing drawings. We use ground penetrating radar to provide accurate inspection of concrete structures such as floors, walls, slabs, bridge deck for the detection of metallic and non metallic objects and features up to 500mm thick.
Key Features include:
Line scanning for reconnaissence surveys
Grid scanning for detailed mapping with on-site 3D imaging
Power cable detector
Real-time location of embedded objects
Wireless report download
AC power or battery
Contact the Cutloose Demolition team for free site inspections and quotes on all concrete scanning jobs in Adelaide, South Australia.