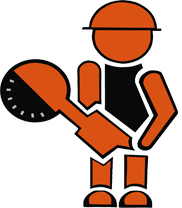 Core Drilling
Drilling through concrete, bricks, stone, masonry or other hard surfaces is a walk in the park for the team at Cutloose Demolition. Using the very latest equipment, Cutloose Demolition offers precise coring from as small as 12mm diameter up to larger drills of 500mm and greater.
All our operators are fully trained and qualified and are dedicated to exceeding customer expectations. We are proud to offer the most economical coring services in South Australia.
Our Core Drilling Techniques
Cutloose Demolition uses state-of-the-art diamond core drilling equipment to drill a number of materials to any depth specified, including:
Concrete
Brick
Masonry
Bitumen
Stone.
Our Coring Equipment
Our core-drilling experts are trained in the use of hydraulic, electric and petrol machinery to carry out all types of coring jobs, and can offer a same-day service. Cutloose Demolition is fully certified to carry out demolition and renovation work state-wide in South Australia, and all our coring projects are covered by builders insurance, broadform liability insurance and vehicle insurance.
Why not request a quote on us? For free, no obligation advice, site inspections and to get a quote on coring jobs in Adelaide, contact Cutloose Demolition.